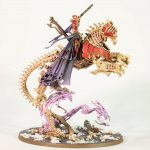 And another three weeks have vanished but I've clocked up a whopping 89 hours worth of hobby!  Project wise I've finished my Legions of Nagash army and now taking a break by painting up some old Warhammer scenery pieces that I've had for ages.  Since my last post, we've had the "Beast from the East" sweep across the UK, bringing Siberian temperatures which promptly dumped down substantial quantities of snow.  Sadly one of the casualties of this freak weather was the Age of Sigmar Open Day which was cancelled (but will be re-scheduled) and due to the poor travel conditions also meant that I wasn't able to get to the Season of Sowing tournament up at Warhammer World.  Very sad that we had to make that call, but it was a case of better safe than sorry.  I still got to give my Legion of Nagash an outing with a three-way game on Monday 5th, so it wasn't a complete loss.
Hobby Targets Round Up
Because of the amount of work I had to do, I didn't actually set any specific hobby targets after the last ones – which I completed in time for the original deadline.  As I didn't go away for the weekend, I took the opportunity to finish off everything that I'd put to one side – so all of the Skeleton Warriors have been edge highlighted, including pushing the red to Wild Rider Red, the bases have had snow applied and even the movement trays have been completely finished, this actually gives me 1570 points worth of models completed for the army and although my intention is to add the remaining 500 points (and replace the Spirit Hosts with Grave Guard), I'm happy to park this project for the time being whilst I work out what else I'd like to add – I have taken a few better quality pictures, but need to do a get some better lighting and redo the photoshoot so it's good enough to send into White Dwarf – I'll also do a post here with some decent resolution versions.
Scenery
As I mentioned in my opening paragraph I played a three way game (using Malign Portent rules, which are amazing) of Age of Sigmar on the 5th.  On my painted realm of battle boards, there were three beautifully painted armies, but one thing spoiled the holy grail of gaming.  None of the scenery was painted, there wasn't even an undercoat between all of the pieces I had on the board (and I don't include the pre-painted old Dwarf hold).
In my defence, the original intention had been to paint up some scenery on the Tuesday and Wednesday following the Open Day (specifically the Garden of Morr bits), however the snow and damp conditions meant it wasn't really practical, so towards the end of last week I decided to crack into a few bits so that my board doesn't look quite as sparse.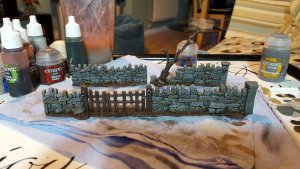 First off, I decided to start small and grabbed the three stone walls that came with the old Fortified Manor.
I'm really happy with the end effect of these, especially considering they only really took a few hours in total.  Sadly I didn't take any progress shots as I was doing them, but plan to do a "how to" on them later on today as a few people have been asking for some tutorials recently.  With the exception of the brown base section, everything was painted using the current GW paint range, so they're a doddle to replicate.
Now three stone walls is a start, but won't really have a huge impact on a game, so I decided to be a bit more ambitious for the next step and grabbed the Watchtower and little toilet type building from the Fortified Manor.  As scenery pieces go, the Watchtower and Chapel are two of the best about, they're fantastic line of sight blockers without being dominating in the game.  Unlike the walls, I am taking work in progress shots of them as I'm going, so will be able to do a reasonable tutorial once I've finished.
This Weeks Hobby Targets
Grey stones on Watchtower
Wood on Watchtower
Doors on Watchtower
Now one of the key things I'm after achieving is making sure that I don't go overboard with details.  At the end of the day, scenery should provide a frame for your miniatures rather than overshadowing the models around it.  I think this is really important when you have pieces such as the Watchtower that are bigger than a lot of the models in an army.  So although it's tempting to go to town and apply lots of subtle weathering and little details, I'm going to try and force myself to apply the 3-foot rule and simply get them painted.