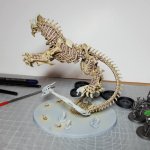 Well the last three weeks have flown past in a flurry of hobby.  I'm pleased to say that I've clocked in over 64 hours and well underway on Nagadron, Neferata's Dread Abyssal.
Because there has been a few weeks since my last post, I'll go over my last lot of hobby targets and what I've managed to get done in addition, suffice to say I feel more confident that I'll get everything painted in time for the event in ten days time.
Last Three Weeks Progress
Assemble Grave Guard
Assemble Spirit Hosts
Assemble Mortarch
Undercoating
Begin painting characters (Necromancer, Vampire, Wight King)
I'm happy to say that I've actually achieved all of the above items.  In fact, considering these were the goals three weeks ago I've made a massive amount of progress.
First up the Grave Guard have been assembled and undercoated silver.  However, after looking at these models seriously, the amount of work needed to get these into a usable state was simply too much for the available time so I've fallen back to my backup plan of running a unit of six Spirit Hosts instead.  It means my army is only running 1450 points, but it'll at least be finished.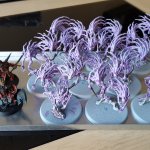 The Spirit Hosts have been assembled and painted.  Although they've come out OK, they're the models I'm the least happy with, I don't think they've got an ethereal enough feeling to them, although an edge highlight might help.  One consideration is that Nagadron has three spirits on Neferata's base, so I need to work out how I'm going to make them more ghostly so that I can at the minimum do those.
Neferata has been assembled and undercoated and I'm now well on the way with painting Nagadron her Dread Abyssal up.  I've gone for a very simple bone effect all over with him but pushed the purple glowing effect on the skulls more than normal.  With more time I might have done this a bit differently, but he's good enough.
Character wise, I've pretty much completely all three characters!  Both the Vampire and Wight King have been done very similarly which sped up the whole process.  I'm not a big fan of the Necromancer as I don't really feel he fits into the overall style of the army I'm going for, but again he'll do for now – I am planning on some conversions for an extra Vampire and alternative Necromancer!
I've also managed to get two things done that I wasn't expecting to.  Firstly I've painted over 60 round skeleton shields (excluding the edge highlights on the metal) and also I got a layer of red onto the cloth bits of all 60 skeletons.  These were two items that I thought I'd have to leave until the very last minute, so getting them done has really helped.
Finally I've glued magnets into all of the bases and picked up a load of 3d-printed movement trays.  These need painting, but the design means I can magnetise five skeletons plus the movement tray into my case.
This Weeks Hobby Targets (Nagadron and Neferata)
So, this is the last weekend I've got before the Age of Sigmar Open Day and the event on the Sunday, so it's going to be full steam ahead on the last few bits
Glowing skulls
Paint Neferata
Paint chair + magnetise to Nagadron
Undercoat movement trays
Grass tufts onto bases
Textured paint onto bases
This should leave me with just the bases to finish off next week plus to glue all of the shields on, which should be achievable.  Considering how much I had to do, getting the bone done on Nagadron this early should mean that I can spend a bit more time on Neferata and if I'm lucky I might even manage to get some edge highlights on the skeletons.