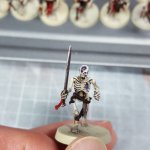 I may have underestimated quite how much time 60 Deathrattle Skeletons were going to take to pick out the belts and random bits of cloth and other details that festoon these models!
I've managed to clock up a massive 27 hours this past week, despite not having much time over the weekend.  What I have manage to achieve though will allow me to field the three units of Deathrattle Skeletons on the tabletop once I've done the bases (and shields), so although I was hoping to be further forward, I'm not as far behind as I almost was.  Most importantly it means I can park the Deathrattle Skeletons for the time being and move my focus onto the other 1060 points I need to paint up!
Last Weeks Progress (Deathrattle Skeletons)
Details on all 60 Skeletons
So all 60 are done bar the highlights, which I'm hoping I might have enough time to do before the tournament – even if it's just pushing the red up to Evil Sun Scarlet (which makes a huge difference to the brightness of the model).
Not much else to say really!  Strangely I have actually enjoyed painting this lot up – a lot more enjoyable than their assembly.  I'm not adverse to doing another unit of 40 models at some point too.
This Weeks (and next) Hobby Targets
Assemble Grave Guard
Assemble Spirit Hosts
Assemble Mortarch
Undercoating
Begin painting characters (Necromancer, Vampire, Wight King)
As I mentioned in the last #52wkhobby post, this weekend is the Horus Heresy/Necromunda Weekender (keep an eye on my Twitter account for pictures during the event).  What this means is that I only have two evenings to do any hobby this week and I don't have next Monday as I'll be travelling home, so I thought it made sense to do two weeks worth of targets rather than just one.
My perfect goal would be to get the three characters completed and onto the Spirit Hosts or Grave Guard.  My theory is that none of the characters are "complicated" and I have the entirety of Tuesday off, so might be able to batch paint some at the same time.