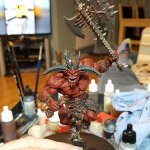 I'm happy to say that my first week of #wk52hobby went well with my Bloodthirster progressing along at a really good pace!  Plenty left to do on him, but should get the model finished before all of the exciting Malign Portent releases drop.
Week 1 Progress
Finish the hooves
Repaint hoof claws + horns
Palid wych flesh edge highlights
Wyld Rider Red highlights on flesh
Quick matt varnish over everything
Drybrush wing membranes
Edge highlight metallics
I also managed to undercoat all of the armour panels last night, although sadly the weather conditions meant the undercoat went shiny – thankfully I've decided to paint them metallic so that won't cause an issue!
Week 2 – Bloodthirster
So I didn't quite get all of the items finished on my list for week 1 so they're going to stay on the list to be done this week.  Looking at things I've got on, I reckon I've a similar amount of time that I had to last week – 4 evening and one afternoon although the afternoon does have a question mark.
Finish armour panels
Drybrush wing membranes
Repaint hoof claws + paint wing claws
Paint tongue
Paint eyes
What's really nice is that this lot is going to see my Bloodthirster pretty much finished with the exception of the whip and the base, sadly the whip will have to wait until there's a decent spell of weather else I risk the undercoat going shiny with I'm keen to avoid.
One ability this Bloodthirster does in game is to make the earth around him crack open with red hot magma injuring units round him, so I want to try and knock the base up so that he's got a Chaos Star shaped broken ground – no idea yet how to do it, but it sounds good!