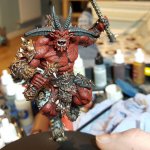 The second week of #52wkhobby has flown past and my Bloodthirster is almost complete.  I did have an unplanned diversion though and started playing with some Deathrattle Skeletons…
Apologies on the slight delay on getting this post up, I wanted to pop up a photo of the wings and it took me an age to take it!
Last weeks progress on the Bloodthirster
So, first off, what of my targets did I actually achieve?
Finish armour panels
Drybrush wing membranes – ish, I've done two drybrushes but feel they'd benefit from another
Repaint hoof claws + paint wing claws – waiting for the wings to be done
Paint tongue
Paint eyes
So I guess about 50%, although realistically I got more done as I'm down to a few details really.  The whip and base I'm going to park for another day, I'm unsure on how I'm going to paint either and could well waste a lot of time thinking about them.  I racked up a total of 16 3/4 hours too, though a portion of this was spent on my diversion!
The diversion – Deathrattle Skeleton Warriors!
So in my usual manner, I was progressing so well on my Bloodthirster that my mind wandered onto the next project.  With Malign Portents and the Legions of Nagash Battletome coming along soon I felt it was a good opportunity to dig out the Death models that I bought at the end of 2016.  Initially I thought that I might be able to get a 1000 point army together for the free gaming event on the 4th March up at Warhammer World (the day after the Age of Sigmar Open Day), however it appears the format has changed a bit and it's now 1500 points.  Somehow, the idea of getting some paint onto the Skeletons stuck in my brain and after spending Friday evening drybrushing my Bloodthirster wings spent Saturday knocking out a couple of test models between other bits round home.
I've always wanted a Ray Harryhausen style to my skeletons, rather than the modern bleached bone or yellow bone finish we keep seeing.  I'm pleased to say that a combination of airbrusing and washes has meant that I got something that was relatively quick and looked pretty decent.  So I grabbed another 14 popped them onto a baton and pretty much painted them up to the following stage on Sunday morning.

I'm planning on doing a YouTube video on how I painted these as I'm really happy with how they've worked out!
What this has meant though is that I'm now wondering if I could paint up 1500 points' worth of Death in time for the one-day event…  It'd be really tight as I realistically only have 4 or 5 weekends between now and then – but I've always got the fallback of my Bloodbound.
This week's hobby targets
Pick out details on skeleton warriors
Get 34 skeletons ready
Paint bone on 34 skeletons (2 x batches of 17)
Final drybrush on Bloodthirster wings
Horns on wings and hooves
This is a very aggressive set of targets but for a change have a fairly clear schedule (providing I don't end up having lots of interruptions), with potentially three and a half evenings during the week, Friday afternoon, Saturday evening and all of Sunday, I should actually have more time than the week just gone.