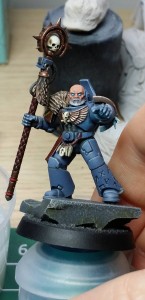 Hi folks, yes I've been rubbish at putting anything on the blog.  A combination of real life being far too busy and lack of enthusiasm to touch a computer have kept me away from here.  Which is actually a bit of a shame as I've been progressing really well on the painting front.  My Rune Priest is pretty much done now and just waiting for me to complete the backpack.  I'm not entirely happy on the OSL from his hand that's projecting on the base but would need to strip off the snow and do it again – which I may do at some point in the future.
I've also got my Wall of Martyrs painted up and put away ready for a gaming weekend I've got planned in September overall pretty happy with how it came out although fixing thick layers of snow has proved a little troublesome, my usual way of using X-20A isoprop. alcohol ended up dissolving the varnish and melting some of the Typhus Corrosion technical paint, which then bled into the snow – turning it a little brown.  Thankfully it's not too bad but I'm not 100% sure it's fixed well enough to not deposit snow everywhere when I use them!
Vehicle wise I've also got three of the four tanks ready for a coat of matt varnish.  The forth (a last minute Rhino addition) is almost ready for it's protective coat of (satin) varnish.  This requires a last bit of brush work and the weather to settle as it's been either ridiculously hot or really oppressive and humid.
Finally (at least for this post), I've put together and started painting a Wolf Priest.  My original design was that he'd have a jump pack and would accompany my Skyclaw pack, however the in the 1,000 point army I'm planning on using in September he'll be accompanying a regular Blood Claw pack.  So I've magnetised his backpack 🙂  This means that I've then got the best of both worlds, plus it'll make him a lot easier to paint.
Upcoming
So what have I got upcoming?  Quite a bit actually!  I'm a fair way through the last tank and am making good progress on my Long Fangs pack which I'd completely forgotten I had to do.  I've got a bit of free time this weekend so with luck can make some good inroads into that pack.  I'm then away for the first weekend of August, but have booked off the Monday and Tuesday of the second weekend.  Providing I've got my Long Fangs pretty much done my intention is to have an epic four day marathon of assembling and painting three Imperial Knights.  I'm going to need breaks to ensure that I don't dehydrate or pass out from lack of food so will try and put up a few posts with progress 😀