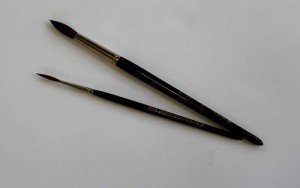 After over 3 weeks gap I managed to get a few hours painting in last night and finally making progress on the eight Grey Hunters I started.  I'm quite enjoying the flexibility that having multiple similar miniatures give you – you can paint some red until it's been used up and then flick over to brass and back again and so on and so forth.  It just adds some variety to the painting process which is normally a killer when it comes to painting "rank and file".
Due to the amount of effort put in over the past few weeks, this week (and next) actually seem to be fairly low on a work load front so I'm planning on getting quite a bit of painting done – my "ultimate goal" would be to get all of the armour done (including highlighting) and just wolf pelts and flesh left to do by the beginning of next week (although this might be a tall order).
I've also been thinking about my Horus Heresy Death Guard army.  Due to the way Forgeworld charge for postage (12% of order value or £12 for courier) I have decided that once I get my next Quidco payment through rather than trying to buy five marines at a time I'm just going to order a huge blob (£250+) of models to get free postage.  This is scarily easy to achieve as 40 marines with bolt guns will actually cost £255…  As I've mentioned previously my intention is to get 750 points together, and 40 marines is more than I actually require in two squads.  I'm envisioning a couple of squads (regular tactical and destroyer), command squad of some kind, commander and then likely tank(s) or contemptor.
One of the really nice things you can include in a Legion army is Medusa tanks.  Although they're only on a Chimera chassis the main guns are able to fire Phosphex rounds (really nasty as they stay in play).  The biggest annoyance is that there isn't a plastic Medusa – so you're either looking at converting a Basilisk (£31), buying a Basilisk conversion kit from Forgeworld (£23/£25) or a complete kit from Forgeworld (£40/42).  There is also a Forgeworld variant with a covered top, although this is £54.  That said a pair of these on the board hurling out damage would be amazingly effective!