I've had a couple weeks that have been very hobby light so not WIP photos to post, thankfully Games Workshop have got some amazing things coming up!
Warhammer Quest – Silver Tower
I'm going to start off with yet another blinder on the Games Workshop rumour mill (and confirmed today with Facebook posts) and that's an Age of Sigmar version of Warhammer Quest Silver Tower being released on the 21st/22nd.  This game will follow a similar format to the classic Warhammer Quest game (released in 1994!) but the box will contain 6 heroes to choose from and a variety of mostly Tzeentch enemies.
People (myself included) have been waiting for a new version of Warhammer Quest for many years and things like the Rodeo tablet/phone app's have only partly sated this desire.  At a guess the price point will be the same as Overwatch as it contains roughly the same amount of miniatures.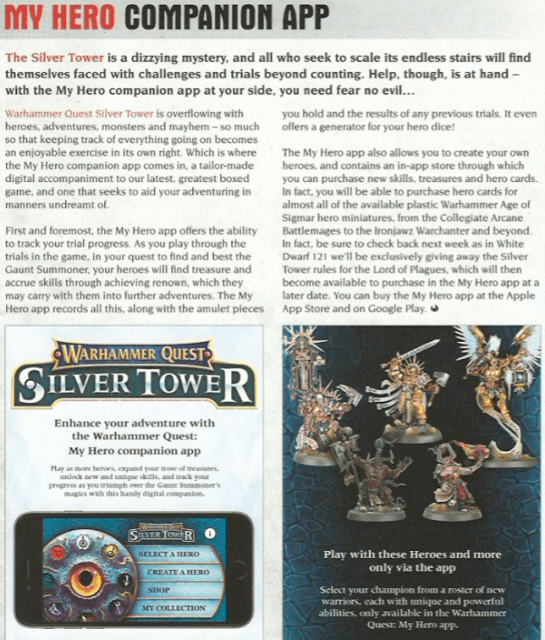 One very cool item is that GW are releasing a Warhammer Quest Silver Tower Hero Companion app that contains Hero "cards" for pretty much every miniature within the Age of Sigmar world!
What is interesting is that it appears that GW stores are going to have a release party for this in the same way as they did for the Space Marine Anniversary with some limited edition hero cards.  I'm quite interested to see if any of this is available at Warhammer Fest – which leads me neatly onto:
Warhammer Fest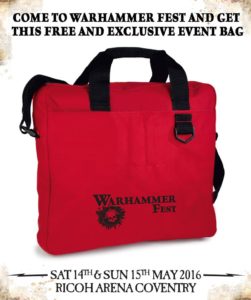 This weekend is the second Warhammer Fest event being held at the Ricoh Arena and running on both the Saturday and Sunday.  I picked up my ticket for the Sunday at the Heresy Weekender in February and the information being passed out continues to improve.  Firstly we finally have an event only miniature for this year!  This miniature is for once a really nice looking (and fairly generic) Space Marine – I can see a nice Wolf Lord conversion coming from it in truth.
Next up, it appears that we're all going to be getting a shoulder bag as part of our £20 ticket.  This appears to be similar to the one given out at the Heresy weekender, but this time in red with a Warhammer Fest logo on the side.  I've a feeling there may be more bits appearing during the rest of this week and of course there is the ever popular ForgeWorld seminar to look forward to! Of course I'm now massively keen to see Warhammer Quest Silver Tower now…
Hobby Light – and bristly brushes
The past two weeks as I expected have been quite 'hobby light', I went away for work just before the bank holiday weekend to Berlin and Poland and spent a bit of time afterwards recovering and not being at home.  We've had a bit of nice weather in the UK so I managed to undercoat a load of miniatures such as my new Long Fangs and get some base colours on but nothing spectacular to take photos of.
Over the weekend just gone I did sit down to do a bit of painting but ended up stopping because I was struggling to achieve a finish I was happy with.  I know "a bad workman always blames his tools" but quite honestly my brushes were being a complete pain.  Now I'm going to hold my hands up and admit that I don't look after my brushes as well as I should.  I use them for everything (washes and metallics) and frequently leave them in my water pot if I am painting after I should go to bed.  That said, I do frequently brush soap them and don't get paint into the ferrule.  Because of this I accept that I need to replace my commonly used brushes (size 0, 1 & 2) every couple of years.  I did this just under two months ago, picking up a new size 1 & 2 from Rosemary & Co like I have done for many years now.
Now, try as I might, the size 1 brush I just can't get on with.  I frequently get odd bristles flicking out and trying to keep a point on it is a nightmare – now I'm not knocking Rosemary & Co brushes, they've always seen me good in the past and likely will continue to – I think it's just this brush has been made with fur taken from Khorne's backside.  Rather than get frustrated and ending up hurling models, paint and brushes across the room (and likely taking a six-month break into the bargain) I decided to dig into my "hobby funds" and purchase three Windsor & Newton Series 7.  These are the Rolls Royce of sable brushes and amusingly I've still got a size 2 that has been beaten and battered – and will still maintain a point!  The new brushes arrived (courtesy of Amazon) on Monday although I'm not going to get a chance to use them until tomorrow.
Weekly Challenge
Well the weekly challenge is going to have to be fairly contained as the weekend is only half the size due to Warhammer Fest
Edge Highlighting on Long Fangs
Warhammer Fest (pictures!)