It's been a frantic few weeks where I've been out quite a bit and also been frantically preparing for a game I had with my brother last Sunday.  This post is sadly going to have to suffice for the next fortnight too as I'm going to Berlin with work next week.
Thirty Years of Space Marines Event
This weekend saw Games Workshop run an event celebrating Thirty Years of Space Marines.  A limited edition miniature (the Imperial Space Marine) was created along with a hard-back book (Index Astartes Apocrypha) with lots of classic artwork and nostalgia showing how the 1986 marine ended up in its current incarnation.  A set of Space Marine specific Psychic Power Cards was also released alongside some Codex supplements.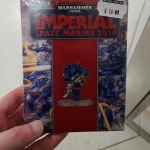 My brother and I went to the local Swindon store and were lucky enough to pick up a marine each and I also picked up one of the new books.  I say lucky because Swindon only had a very limited stock of the miniature and books which sold out entirely before lunchtime – which included miniatures initially put aside for Sunday.  The website also sold out of miniatures before the end of the day, so anybody who went to purchase one on Sunday will have been disappointed
I'm a big fan of Games Workshop but think it's really bad that they had been promoting the Thirty Years of Space Marines event as being the whole weekend and ran out of stock.  Considering the plastic sprues are produced in Nottingham, I cannot see when it sold out why an option for "sprue only" couldn't have been added and a PDF of the rules e-mailed out, the cost for an additional production run would have easily been covered even if they reduced the price of the miniature.
Overall the Thirty Years of Space Marines event was pretty good, but slightly marred by the stock issue.