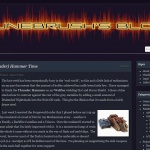 Regular readers will spot that I've just rolled out a new blog theme on the website!  It's been my intention to recreate the theme for quite a while as a number of items were slightly broken or weren't optimised very well for things like Search Engines.
One of the most visible changes is that I've decided to go for a different typeface throughout the site.  Although I liked the old version, I feel that using a serif font is that little bit easier on the eye.  I've also changed the colours of the links in the right-hand menus so that they're more visible.  It should also be pretty easy to share any posts on a variety of social media sites with the implementation of better sharing links.
I've fixed a few things such as the search page and the "quote" section I use for weekly challenges and added a few "under the bonnet" items such as extra meta data to feed the likes of Google.
Depending upon time I'd like to make the theme properly mobile ready and optimise it by removing jQuery.
Finally, if you spot something or have any suggestions for the new blog theme, please leave a comment 🙂