The Imperial Knight Armiger is the smallest addition to the Imperial Knight family.  As with it's bigger brother, future weapon variations are highly likely, so I've created this tutorial detailing how to magnetising Knight Armiger weapon arms.
Magnetising Knight Armiger Weapons
One of the biggest issues when magnetising Knight Armigers is the very small contact points, so a slightly different approach is needed in comparison to Questoris Knights.  Equipment wise you're going to need a miniature hand drill, 1mm and 3mm bits, some kind of sharp scribe and four 6mm x 1.5mm magnets and four 3mm x 2mm magnets.
Magnets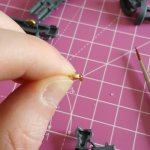 The most critical magnet in this whole process is the 6mm x 1.5mm magnet.  Now this is an irregular sized magnet so I ended up having to buy gold plated ones intended for pain relief therapy, one benefit is that the North pole is marked with a dimple on one face.  That comes onto one important point – make sure that all of the magnets are glued in with identical polarities, else you'll not be able to mix and match the arms!
The other magnet you need is a regular sized 3mm x 2mm.  This is one of my "mainstaple" magnets and will hold a miniature on a 25mm base onto a baking sheet pretty securely.
Fixing the Magnets
Once done, take your knife and carefully cut a small channel out from the side of the hole, this will allow any excess glue and air to escape.
Home Stretch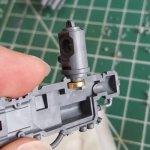 We've now done the bulk of the difficult tasks when magnetising knight armiger arms and we're now on the home stretch.  Once the superglue is dry, you can test the fit of the arms.  There may be a tiny air gap between the two magnets, but that's fine, it'll be strong enough to hold in place.
So the next steps are pretty simple and require you to glue together the rest of the plastic pieces, so the elbow joint for the chainsword, the bicep in the shoulder section and the two halves of the gun.
Finished Magnetising Knight Armiger Weapons!
And there we have it!  We've finished magnetising the Knight Armiger.  Hopefully this tutorial will come in useful even if you don't follow it word for word.