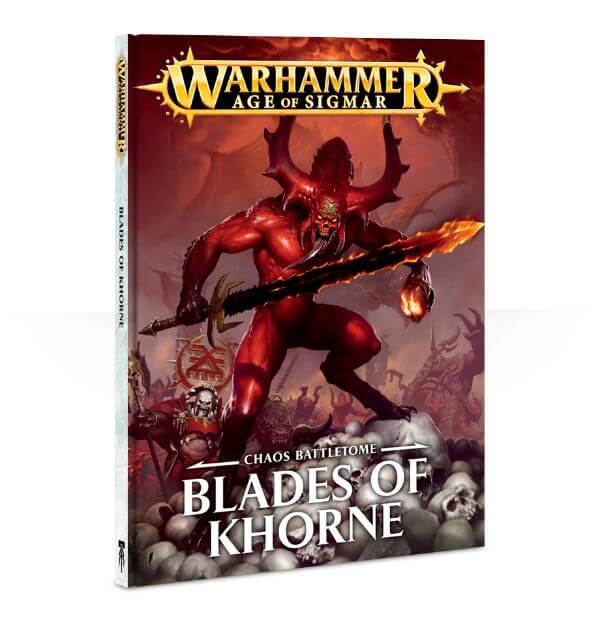 Myself and many other Khorne players are eagerly awaiting the arrival of the new Blades of Khorne Battletome this weekend (8th April).  The announcement came in the middle of March that we were getting one and we got a bit more information this Saturday when pre-orders went live.
Needless to say, we've had a number of leaked images of pages from the Battletome appear on the internet from various sources.  These are slowly spreading onto the usual places (I'm sure it'll appear on BoLS in a week citing how new it is) but I thought I'd try and collect them together in a post so that it's nice and easy to reference them.  I'll also throw in my own opinions as I go.
Blades of Khorne
There's also a nice "everything heals D3 wounds" option that would work really well if you're running a lot of multi-wound units such as Khorgoraths or Bloodthirsters.
Page 152.  The points.  Although this page has been leaked, I've made the decision not to put it on here as I felt it encouraged people to not bother picking up the book (which any Khorne General should be doing).  There haven't been too many changes and the battalions all seem reasonably priced on the surface.  One change that has been made is that Skullcrushers are battleline for Bloodbound armies rather than mortal – so you can finally field your Khorgorath and use them as battleline!
Summary
Well what can I say other than feeling somewhat naughty at having the leaked pages a few days before the book. Overall I'm impressed, from the point of view of the new rules and abilities, we're getting quite a bit that should make people rightly fear going up against a Khorne opponent.  We're not just a one trick pony any more, with quite a lot of ways of triggering off a extra attacks in the hero phase and a few battalions that catapult Daemon units across the board.  Hopefully this will mean that a mixed army will stand a decent chance of getting into combat now.  Blood Tithe has the potential to make a massive amount of difference and we've yet to see how much of a difference the multitude of "make a single attack" abilities will actually pan out.
There are a few things that I don't feel have been resolved.  Juggernaut based units still hit like a wet lettuce unless you start fielding them in a battalion where it's slightly improved.  The Skull Cannon is still pretty mediocre and one of the weakest shooting options available to a Chaos general.  We've also lost the only anti-shooting available to us as the Bloodstorm battalion doesn't exist.
Now my musing above will come very much from a one-sided point of view.  I really don't like Bloodreavers, as I've said before, painting that amount of bare flesh leaves me cold and I'm a big fan of Blood Warriors.
Personally I think the way I'll head is to go down a quick deployment Daemon force alongside a slower Bloodbound contingent.  Time will tell – regardless I think I need another box or two of Skullreapers/Wrathmongers 😉