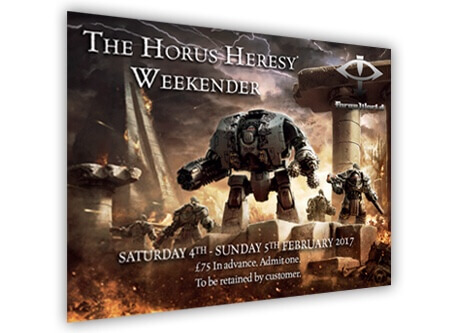 In less than a couple of weeks, a few hundred die hard fans will be heading to Nottingham for the Horus Heresy Weekender 2017!  This event has rapidly become one of the highlights of the year for fans of the heresy and this year I'm sure will be no different.
So this post has been made following on from what appears to be leaked images of the schedule for the Horus Heresy weekender 2017 – full credit goes to The Imperial Truth who shared this on their Twitter feed.  The original version also appeared on 4chan, however I can't get access to that at the moment so cannot confirm.
Now I appreciate the text on this is poor so this is what I have interpreted:
Horus Heresy Weekender 2017
Early Registration: Friday 5pm ~ 8pm
Sales Area Opening Times: Friday: 5pm ~ 8pm; Saturday: 9am ~ 6.30pm; Sunday: 9am ~ 4pm
Blood Games: Open Friday 5pm ~ Sunday 8pm
Open Gaming – The Gaming Room will open over the weekend for you to play games exclusively based on Forge World's Horus Heresy series.  Some tables will be prepared(?) for you to re-fight the battles of the Age of Darkness against friends old and new, using your own gloriously painted forces
Adeptus Titanicus Participation Game – Join the Specialst Games team and friends on Fridan night in the Seminar room as the host a special ?? participation game of the forthcoming Adeptus Titanicus, using full-sized Warhammer 40,000 Titans and Knights
Using your own Titans or groups of three Knights, or use those provided by us, and decide if you are up to the task of commanding a mighty God engine in the service of the Emperor of Mankind or His nemisis the Warmaster Horus.
No preparation is required – the Specialist Games writers will guide participants through the game as it is played.  Just turn up and play!
So, it appears that some of the comments from last year have been really taken on for the Horus Heresy Weekender 2017, we've early booking on the Friday before 8pm and the sales stand is open at the same time (will early release be available?)