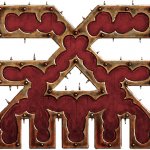 Scarily we're now a week into September and already the nights are noticeably drawing in and the temperature chilling down – autumn is well on its way and I thought it was a good point to go over my plan for the Goretide over the next few months.
Apologies that we're a bit "picture light" too!
Imminent Plan for the Goretide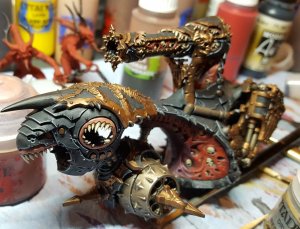 Regular readers won't have failed to spot that July and August were fairly lean on posts, initially because I had too much painting to do in preparation for Seeds of Hope and then lots of real life chores to catch up on.  My Skullcannon is making good progress but it's not really changed very much so not "post-worthy" in my opinion and I'd rather not bore people with posts that don't contain anything particularly exciting.  However I do have a few things planned between now and the end of the year!
Firstly (and pretty obviously) I'm going to finish off my Skullcannon.  I'm now onto all of the edge highlighting so with luck may get this finished over the next week, then just need to quickly knock out the Bloodletters and base it up.
Then I think, I may have a bit of a bash at painting up some more characters.  I've three Slaughterpriests, a Bloodstoker, Skarr Bloodwrath and Valkia to do and the new Gorechosen game is released on the 23rd which will give me another four characters (magic eight).  My intention is to get at least one Slaughterpriest painted for entry into a painting competition being run by Ben Curry on The Grand Alliance forums due at the end of September.  The rest I'd like assembled and at least undercoated by the end of the month.
I've just booked off the last week of September and am provisionally planning to do some work on my Realm of Battle Boards – just some shading and drybrushing so they can be at least stored away again rather than lying on the floor.  The end of that week I'm planning some games of 40k and Age of Sigmar at home so they'll also be sorted for that.  If one is good enough I may also pop my Bloodbound into Armies on Parade too.
With winter looming with its usual wet and cold friends I think my priority needs to be to assemble the remaining miniatures in boxes that I've got: six Skullcrushers, six Bloodcrushers and ten Blood Warriors.  If I can then get these undercoated it will mean that I have miniatures to paint on the numerous grey soggy days in the remaining few months until Christmas.
My plan for the Goretide also includes a custom Hellcannon conversion based on a 40k Forgefiend and some type of large creature (Bloodthirster, Slaughterbrute etc), but as with my original thought, I'm not going to purchase anything else until I've got more painted.
Long term plan for the Goretide
The Goretide are going to have a bit of a holiday.  For the first time in three years I've actually got the Christmas break off and intend to start building and painting all of the models I've got for an Adeptus Mechanicus army (including finishing off my Knights).  All being well Fires of Cyraxus will be released by then too so I'll know what Mechanicum units I can pull over to 40k which would also kick off my Horus Heresy army too.