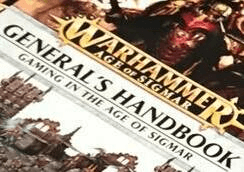 Hot on the heals of the Forge World Open Day, the next bit of excitement has been the release of the Age of Sigmar Generals Handbook!  I headed over to my closest Games Workshop store (Swindon) and managed to pick up one of only 12 copies the store received.  I've said it before, but I really don't understand why the stores aren't sent quantities based on their average footfall, Swindon is a very popular store – by the time I left (spent an hour looking round and talking to staff) they'd sold all of the copies they had…
Swindon Store Birthday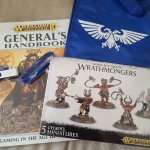 Saturday was coincidently a birthday weekend for the store, who had laid on cake, balloons and various events during the weekend.  Really impressed – there was a queue waiting outside for the store to open too, proving what a popular store it is.  In addition to the Age of Sigmar Generals Handbook, I also picked up a box of Wrathmongers (as at that point I had almost finished my Mighty Lord of Khorne) and a compulsory pot of paint, because of the amount I spent I got a birthday grab bag consisting of a GW bag, black Aquila pin badge, wristband and a 4Gb memory stick – really nice little surprise.
Age of Sigmar Generals Handbook
Well what can I say – it was worth the wait!  The internet has been awash with points values and battleline units for weeks now but I'm happy to say that this is only a portion of the content of the book.  The rest of the pages are full of how to play in different styles, running campaigns and how to get more out of your games of Age of Sigmar.  You also get allegiance abilities for each Grand Alliance, equipment for your heroes in the form of Artifacts and a few extra rules for tournaments.  There are also a load of new Battleplans for playing scenarios that fit particular play styles.
I'm still reading through everything but I can see this being really moving the game system forwards.  Adding points is likely the biggest change and I see old school "Open Play" going by the wayside a little, however I think points are simply going to level the playingfield when it comes to casual games rather than being a massive straight jacket.  I just think we're no longer going to see somebody placing a load of monstrous creatures against two units of Night Goblins.
All in all I would recommend anybody serious about playing to pick up the Age of Sigmar Generals Handbook
Goretide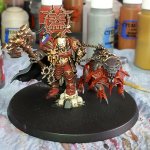 As I alluded to earlier my Mighty Lord of Khorne is now finished and his hound successfully glued into place.  I took a punt and used a different colour scheme for the hound than Duncan did on WarhammerTV.  It's actually come out really nicely but I've had to order the orange Edge paint for the final highlight as the ones I have are too bold in my opinion.
This has put me at 720 points in total – so 280 points off what I need for the game in August.  After a bit of questioning on The Grand Alliance forum I've gone for Wrathmongers as my next unit in the hope these will give me a bit of anti-monster punch.