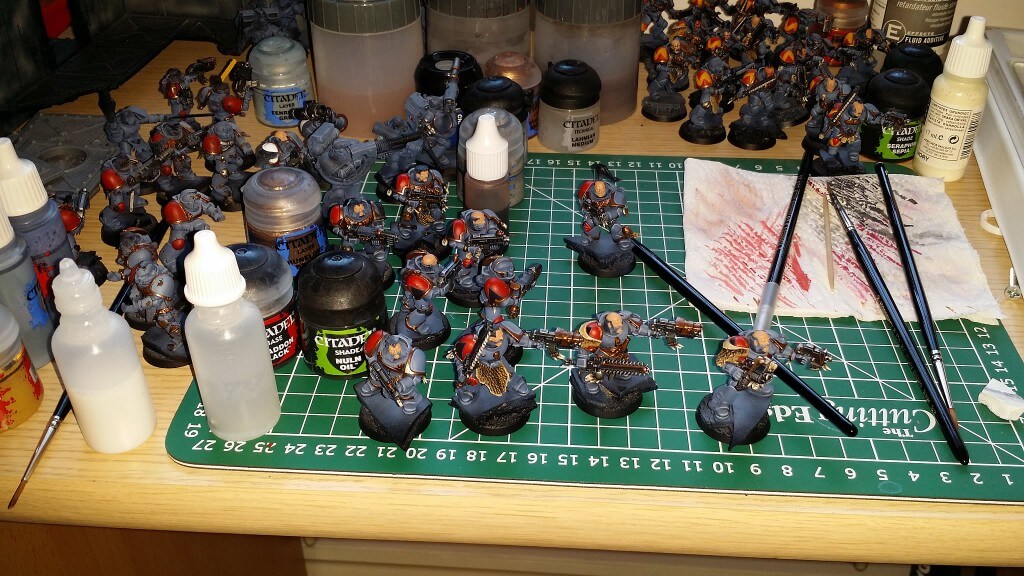 Although getting up earlier doesn't appear to be getting any easier, I am ploughing through my 'Wolves at quite a rate. The pack markings have been done, all of the bone elements and trinkets, black on the weapons and all the metallics. I've base coated and washed all of the 'rope'/thong type bits that are used to attach the trinkets to armour and just need to highlight them up. This morning I also managed to get every face basecoated Cadian Fleshtone (this includes some missing ones in the Blood Claws).
So, I have a leaving meal tomorrow evening which gives me this evening, tomorrow morning and some of Friday evening (providing I've not drunk too many Bangla's at the Indian). I also theoretically have some of Saturday morning if I were to get up early, but I ideally want to have put a coat of varnish on by then and use that time for getting my army together (and sorting out the actual army list). It's not masses of time in truth, however theoretically I only have the faces (all 17 of them) and rope bits before I can varnish. I think I might have a couple of 'odd' bits that I've missed too which I'll try and sort out prior to this.
Plan of action in my head is to do the basic wash on the faces as soon as I get in. I can then have a my dinner whilst that dries. I can then go onto the various flesh layers (I tend to do about 3 or 4…). I'm hoping that I can get to the point where I only have the top highlight left which I can do tomorrow morning, along with the rope highlight. I'm hoping that my large wet palette and bottle of binder/retarder/flow mix will help me overcome some of the issues that you normally get when painting flesh – namely chalky and bitty paint.
I do think my goal is possible, but I've a feeling I'm going to overrun and need some of Friday evening – the faces are after all probably the critical focal point so rushing them isn't something I'm going to even consider doing. In fairness providing I can apply the varnish around 8:30am on Saturday there will be enough time for it to be touch dry before I'm picked up at 9:30ish.
Of course, once Saturday is over I then need to go onto pin washes, decals and the bases 😀