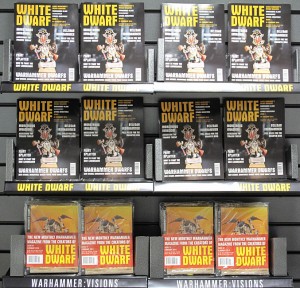 Rumours came out about 3 weeks back that Games Workshop were looking to get rid of their White Dwarf magazine and replace it with something different.  Initially there were quite a few different rumours, but GW confirmed a week and a bit ago that they were going to be taking White Dwarf over to a new weekly format and to replace the monthly offering with a new magazine called "Warhammer Visions", which would contain lots of photos of fantastically painted miniatures.  All existing subscribers would be converted over to Visions but for the first issue we'd also receive a copy of the weekly one too – just so we can see what it's about.  Those two publications arrived on Saturday, so I've had time to go through them and give you my opinion.
I am now going to have my first gripe – really poor communication.  I received one e-mail pointing me to their blog which contained information about the changes but didn't confirm what would happen to existing subscribers.  There was also a Facebook post from my local store (Swindon Games Workshop) saying if there was anything people wanted to know to ask.  There was a generic A4 letter with the publications which went over the changes and confirmed that the subscription (payment) wouldn't change.  I really don't understand why GW couldn't have sent out a personalised letter to subscribers, explaining exactly what was happening.  Letters headed "Dear Subscriber" just show a complete lack of respect.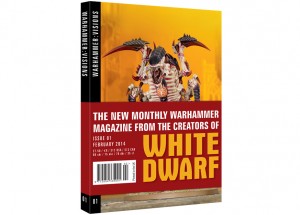 Now onto the actual publications.  Warhammer Visions first.  The publication is roughly 10″ diameter across, perfect bound, with a gatefold pull out and about 1cm thick.  Opening the publication up you realise that the whole publication is multi-lingual so you get three paragraphs of text instead of one.  The font used is tiny – don't get me wrong, I paint 28mm miniatures for a hobby so I don't have an issue with small things, but the size of the text makes it really difficult to read anything – not that there is really much to read in truth.  Each page seems to blend into the next, flicking through initially I didn't even realise there was a battle report in the middle or Blanchitsu towards the end…  One other annoyance is that due to the thickness of the publication any double page spreads really need to have you break the spine in order to see it properly.
At the back of the publication is a section for Paint Splatter which I feel is quite out of place.  As the publication is meant to be promoting the finest painted miniatures it really should be a couple of the old 'Eavy Metal Masterclasses and not the tabletop standard painting tutorial.  Not that I would say the miniatures featured are all of a very high standard, in fact a number of them look very "average".
Overall Warhammer Visions promised a lot and sadly fell at the first hurdle. The size and content really make the publication a mini-Argos catalogue rather than a gallery of amazing miniatures.  I can see it working for the iPad but for a printed publication it doesn't work.  There are no hints or descriptions on how painters achieved specific results so I really wonder what the point of the publication is – I can look at amazing paint jobs using Google or CoolMiniOrNot and at least can zoom in…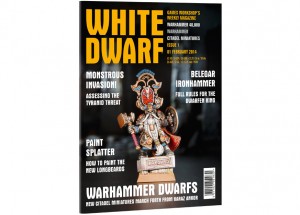 I picked up White Dwarf Weekly feeling quite disappointed after having looked through Visions…  The publication is a normal sized magazine format, saddle stitched with a heavy paper cover and running at 32 pages and uses a layout that we're used to in in the old magazine.  There were a handful of new releases shown which ties in with the new weekly release schedule and each had a page dedicated to it.
Within the magazine was Jervis's ramblings, paint splatter and rules for the new Dwarf Lord, amongst other things.  Bearing in mind it's only 32 pages long there is almost as much reading content as Visions.
White Dwarf Weekly sadly doesn't have an iPad version or subscription plan which means that it needs to be picked up from either a local store or local stockists and this is where I have pretty much my only gripe about it – my local stockist isn't going to stock it which means the closest place is half an hour's drive away.  The publication is £2.25, which is right on the border-line of what I think is affordable for such a small publication, but when you couple this with the additional cost and more importantly time needed to pick up a copy makes the publication expensive and a lot of hassle to get.
Overall
OK, I'll admit that I'm really quite disappointed with the changes that have been made.  Although the content of the monthly White Dwarf had turned it into a mostly advertising publication and it needed a serious injection of hobby back, splitting it into two separate offerings isn't actually going to help very much, especially when combined with the difficulty of getting hold of the weekly magazine.  I think the concept of a monthly "art" book is ludicrous in today's day and age of internet searches and I'm not overly chuffed about having my subscription converted over to it.  Time will tell what happens, but I've a feeling that a lot of people are going to be phoning up to stop their subscriptions to Visions and I can't blame them.
Scarily the gem does seem to be White Dwarf Weekly and that's really what White Dwarf should have been for a while.  Personally I'd prefer to have a monthly compendium of White Dwarf Weekly rather than Visions.
I've got a few predictions.  Firstly I think an iPad version of Weekly will appear fairly soon.  I think Visions will die a slow and prolonged death in about 6 months, during which time the vast majority of subscribers will have cancelled.  White Dwarf monthly will then re-appear at a higher price cover with new subscription options with the hope that the people who cancelled their subscription will pick up a new annual plan.  Call me cynical but there are a lot of people who are on a super-cheap £9 per quarter subscription plan and I think this is an exercise to get rid of them or upgrade them to a more expensive subscription.