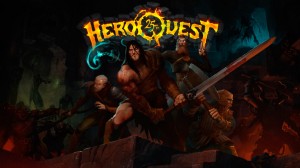 Towards the end of last year, hobbyists got very excited when a Gamezone Miniatures announced that they were going to produce a 25th anniversary edition of the classic Heroquest game and put it on Kickstarter to get it funded.  Those same hobbyists were equally very disappointed when the Kickstarter got pulled due to intellectual property issues.
A number of things seem to have happened.  Firstly Heroquest had been registered by Moon Design in the US for their own RPG system.  Fearing that American backers were daft enough to think that the 25th anniversary board game was the same as the RPG system, Moon Design through in a cease and desist order.  On top of this it would appear that Gamezone didn't produce evidence from Hasbro/Games Workshop that the 25th anniversary edition was done with their acknowledgement.  Sadly this was enough for Kickstarter to agree to the C&D after the whole thing ended up in court.
However not to be dissuaded Gamezone have re-released the game but using a Spanish crowd funding platform as nobody has any legal rights over the Heroquest name within Spain.  The game does indeed look like it's a faithful reproduction of the classic game but with new miniatures, board sections and such like.  With 16 days remaining it's already over 400% funded.
In truth I'm still not entirely positive that the game is going to go ahead – I really hope it does, but so far there hasn't been any actual shots of completed miniatures, just 3d prints and lots of really nice artwork.  It looks like it wraps up around the 8th February, so I'll likely have a look then to see if I can justify backing it.  I reckon you're talking around the £80 mark for the base game and shipping to the UK, however you really would be looking at the £115 for the top level including stretch goals.
http://www.lanzanos.com/proyectos/heroquest-25-aniversario/necesidades/