Though expected, it's always nice when you get official confirmation of Golden Demon.  Once again the 2024 season will be kicked off at Adepticon.
As usual the announcement promises for the event to be the biggest yet, which generally a given because the standard of entries gets higher and higher each year.  What is of more interest is that there has been a shuffling around of categories.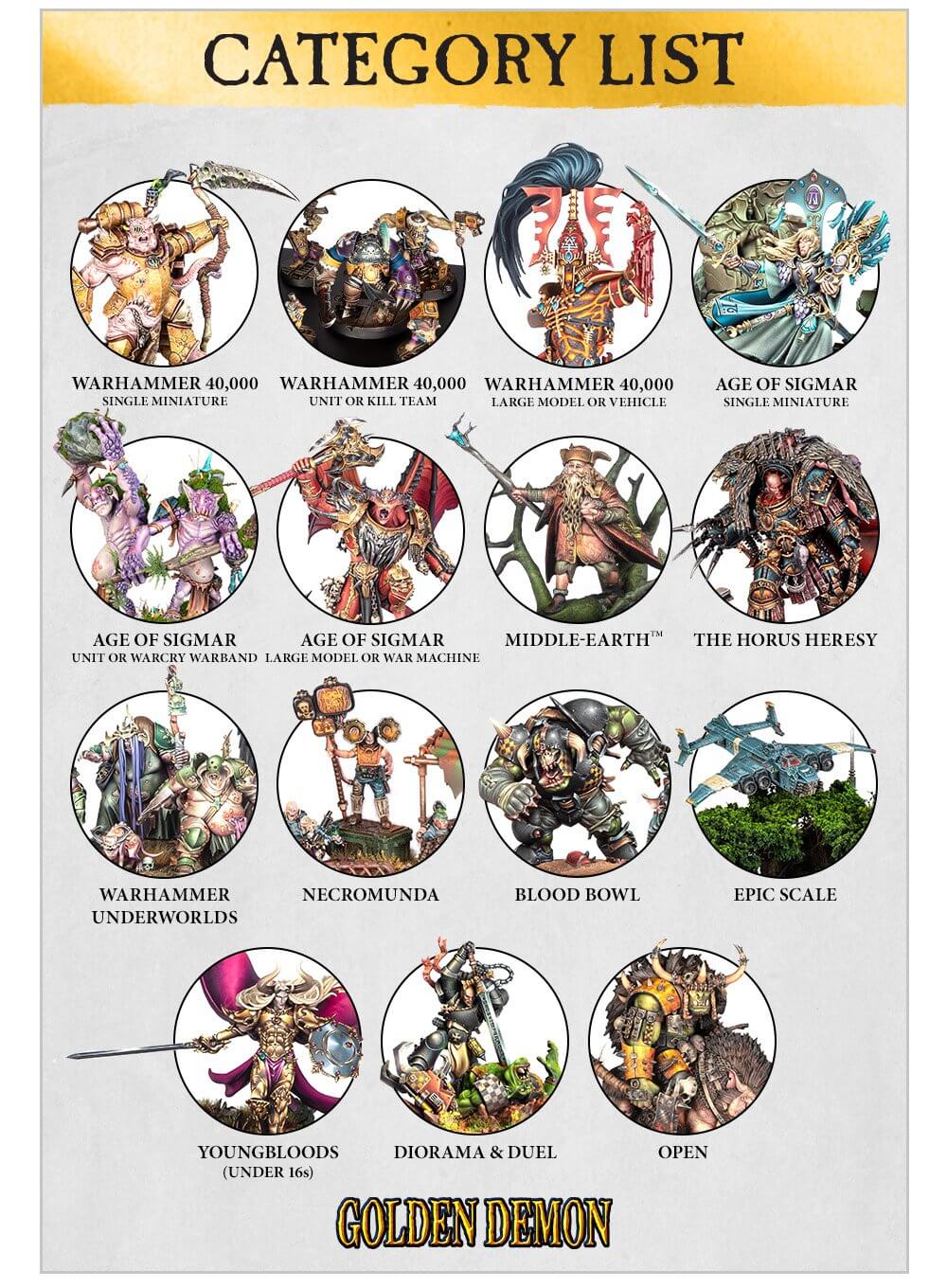 Now this has caused a little bit of a stir within the painting community with the first controversy being the combination of Diorama & Duel.  Now I'm not going to lie, I could see this coming a mile off.  Ever since Games Workshop removed the size restriction on the Duel category, entries have become more and more absurd extravagant in size, blurring the line between diorama and duel.  Personally I'd have preferred the size restriction to be re-added and the Duel category remain, having a category with strict restrictions challenges painters in a way that a sandbox category doesn't.
In a similar move, the Warhammer 40,000 Large Model and Vehicle categories have been combined.  I personally have more of an issue with this.  As a previous Vehicle Demon winner, large models such as the Avatar or Angron are very different creations to vehicles such as Knights and tanks, in technical skill to put together, pose and paint.  Mashing the two together feels like mixing chalk and cheese.
Next up you've got four brand new categories for The Horus Heresy, Warhammer Underworlds, Necromunda and Blood Bowl.  Not going to lie it feels pretty excessive.  Necromunda always featured successfully in the 40k Unit category and equally Underworlds sat within Age of Sigmar unit.  Horus Heresy does make sense in concept, but we've no idea on what it actually covers as it's a very broad setting within the 40k universe.
Other than the above items, the other categories remain their familiar selves.  What we are lacking as ever though is any form of clarity on what the rules are for each category.  This is an area that I feel Games Workshop constantly seems to miss the mark on with Golden Demon.  Demon entries take months to prepare and paint, to change categories around with zero clarification on you can actually enter where is really poor – can you include 3d printed sculpts you've created yourself, what does a "Horus Heresy" miniature actually mean, can you put an Underworlds warband into AoS Unit, can Necromunda be a single miniature – the list of questions goes on.  It's vague and gets people talking for completely the wrong reasons, and it's something that can easily be solved with just publishing the competition rules.