On occasion I come across a website that makes me sit up and go "how have I missed this?" and those were the words I uttered when first came across 'Eavy Archive.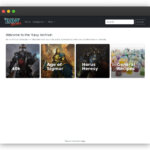 Created by a former member of the famed Games Workshop 'Eavy Metal team (who goes by the moniker Infernal Brush), the 'Eavy Archive is a website that collects together many paint recipes to replicate the box art on Games Workshop products.  It contains recipes and paint sets for most things you can think of and includes various guides that have been produced for White Dwarf, Instagram and other sources.
There's loads to love about 'Eavy Archive – it's free, has a search engine and is being actively maintained.
What I do think is worth saying is that the website isn't a blow-by-blow guide on how to paint a specific miniature.  If you look at a miniature entry it will consist of recipe cards for specific items, as an example the Nagash guide includes four elements covering purple armour, spirits, bone and teal fabric.  But for me this isn't where the strength of 'Eavy Archive lies, I think if you only use it for finding out how to paint a specific miniature you're losing out on a huge amount.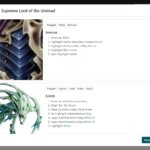 As an example, let's say I wanted to paint the armour on a Grave Guard miniature who I would use as a bodyguard for Nagash.  Rather than purple armour I want to tie it into the teal fabric that Nagash wears.  Searching for the keyword teal lists over 50 recipe cards to pick from.  For me this is where 'Eavy Archive shines, I've lost count of the number of times I've hit a wall with painting some element on a miniature and ended up wasting hours researching or experimenting with varying degrees of success.  As harsh as it sounds, the vast majority of the internet is full of "wash and drybrush" – although these absolutely have a place, if you're painting something for display they don't hit the marl.  'Eavy Archive fills that gap with display level recipes.