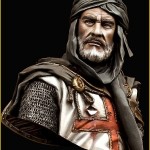 Because I clearly don't have enough painting planned, I thought it would be sensible to buy my next project. So what if I've a Space Wolf army to paint and Imperial Knight to do? :p
In all seriousness, I have recently purchased something completely different to work on, a 1:10 scale bust of a Templar Knight from Young Miniatures. This bust has more than a striking resemblance to Sir Sean Connery – of whom, my Mum is a massive fan. I've decided that I want to aim to get this painted in time for her birthday at the beginning of May – now this may well be completely infeasible as this month is mostly going to be taken up with my Space Wolves, however I'm quite happy to spend most of April working on this.
The actual bust arrived the other day and I've dutifully cleaned all of the injection ports and washed it off. The casting on this piece was absolutely beautiful – there wasn't any miscasting, bubbles and the only mold line was on the underside of the piece of the turban that trails down the front. Even a few weeks after receiving it, this piece puts every single miniature I've ever worked on to shame with quite how good it is.
I've decided to keep the actual bust as individual components, with the exception of the turban trail. Each piece can then be tackled almost as a mini project, with the exception of the neck which has both skin and turban on. All of the pieces have had a coat of Vallejo Grey Primer from my airbrush and everything fits together snugly so I just need to use some epoxy glue when I'm ready to assemble.
Baring in mind I scaled these down – I'm very impressed with the camera on my phone…