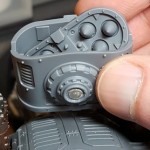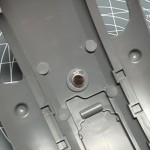 I have a somewhat smug feeling currently having quite comfortably completed my Week 2 goals! All three Imperial Knights chassis/skeletons have been finished as far as I can without the armour plates in place. On top of this I've managed to magnetise the rocket pod onto the back of one of the carapaces. I ended up using four magnets in total, with three different sizes. Unlike other solutions, the magnet in the rocket pod is actually drilled and glued in place, most others just cut the stalk off and superglue a magnet that I'm sure snaps off fairly regularly.
I've done a little bit of work on one of the bases and have cut up parts from an old Tau tank and glued some in place along with some little crystals I picked up. I'll need to make sure that I don't go overboard with Xenos bits and pieces as I'm hoping to be able to use my Knights as part of a 30k Questoris Household.
My Week 3 challenge is going to need to be a little more flexible because the temperature in the UK has dropped quite a bit which prevents using spray primers and similar.
Prepare all armour plates (decorations, gap filling, washing) – including spares
a) Undercoat all armour plates Chaos Black
b) Complete all 3 bases