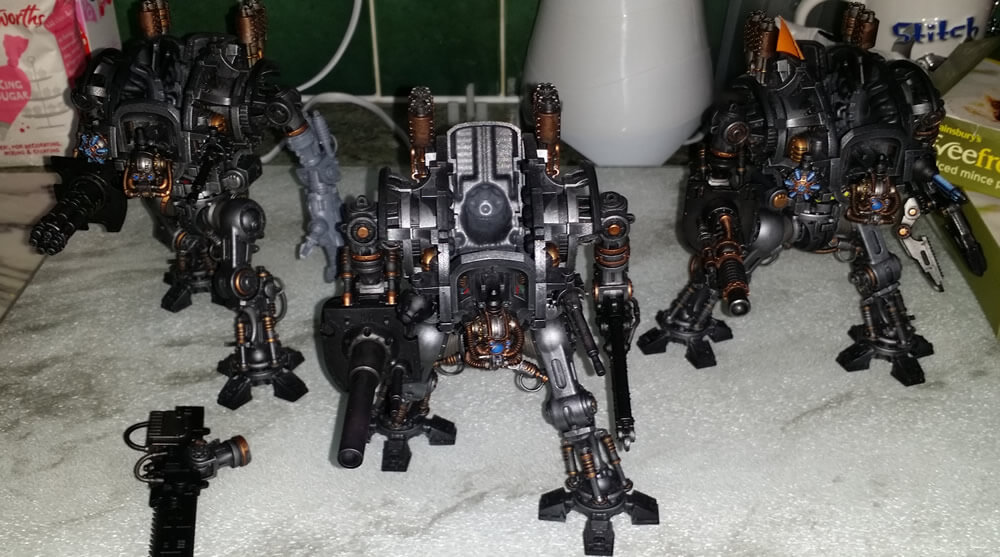 Well it's not quite a Sunday post, but it's a post within a week and quite a long one at that 🙂  Firstly an up to date progress shot of my three Imperial Knights.  As you can see (or not, the winter weather doesn't make it easy to take a photo with a phone camera), the majority of the metallics have been done.  I've still a few odd fiddly bits and bobs to do, such as pipes and smaller details which I hope to work on over the next week or so.  Most importantly I've sorted out the resin weapons for the Maegera which I've been putting off for a while.  The power gauntlet isn't finished (as you can see it's not even undercoated) and I've also a Thermal Cannon that I need to finish off now that I've bought a spare elbow joint.  All of the weapon arms are magnetised primarily for storage but also so that I can use my Maegera as a normal Knight if I want.  I've also a couple of carapace weapons.
One thing I'm really chuffed with is how well the blue glowing elements have turned out – the Plasma-fussil and Ionic Flare Shields really do pop in the mass of grey-metal and I'm currently considering if I should add some more blue glowing bits in vents and such like to break up the monotony of steel.
As I mentioned in my summary last week, since I've been doing these, I've purchased some Vallejo Metal Color paints.  These new paints have allowed me to add some more techniques into my repertoire of painting metallics.  In the above picture the heads have all been painted using the new paints with minimal washes and they do pop more than the dulled down chassis.